The latest edition of The OpenSure Free Press, issued today, includes a new feature: The Green Bit. We've stopped hiding our green light under a bushel and are now happy to promote our green credentials. We cover this under the Green & Ethical section of our website, explaining our ethos and what right we have to claim green and ethical status.
We don't need to list here the benefits to the planet of businesses run on green technology, but have you considered the benefits to your business of green hosting? Quite apart from the warm green glow of knowing how virtuous you're being, the simple act of moving your hosting to a green platform hugely improves your green credentials. If you work in an industry typically viewed as a polluter or if you want to 'give something back' or are looking for a painless route to greenery, green hosting will give you something to shout about. We've recently introduced the green badge scheme, which will allow all our customers to display our green 'Powered by OpenSure' badge on their site: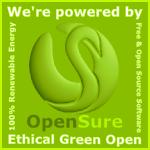 To take advantage of this scheme, existing customer can visit this page and download the necessary. If you aren't currently a customer but are interested in learning more, please get in touch.