Did you miss us? The newsletter is a day late as we were otherwise engaged yesterday – read on for more details…
Cut to the core
This StartUp Donut blog post title says it all: if it ain't core, don't do it, or:
outsource or die!
I think we get the message. In this case the author seriously jeopardised his own company by trying to save a valuable client, but he makes a wider point about the value of outsourcing and remaining lean.
It's easy to be lured into trouble in an attempt to save money, especially when that involves looking after complex IT issues. Consider how important well-run IT and online services are to your company. If the answer is 'fairly' or above, then unless you're an expert, invest money in that supporting plank of your business. As with other professional services, the money spent is an investment, not a cost, especially if you choose a company that has your best interests at heart and works with you to achieve the best outcome for your business.
Crapware
We're childish enough to find the term crapware quite funny, not to mention accurate. This LifeHacker article explains how to replace "crappy", not to mention "craptastic", software bundled with your new computer with superior alternatives. From naff PDF readers such as Adobe to the nightmarish Norton and McAfee, through Internet Explorer and Skype to Microsoft office, this article lists a good range of software alternatives. We're shocked that not all are open source, but you can't have everything. And of course, if you're using a nice secure Linux operating system such as Ubuntu, who needs antivirus anyway?
Who's cool now?
Well now this made us laugh. According to Mashable:
iPhones are for old people
This is based on not-very-scientific research carried out in an American college dormitory where not one single student owned an iPhone – that's what their dads have; they themselves have HTCs and Samsungs. The article explains this as follows:
iPhone owners tend to be older and more affluent, largely because their device is more expensive than the average Android equivalent.
and, in a shocking threat to iPhone's Arctic-cool image:
Android owners tend to…be aged between 18 and 34 — the cool years, as far as most marketers are concerned.
Zounds!
Project Gutenberg
Michael Hart, founder of Project Gutenberg, has died. Chances are you've heard of neither Michael Hart nor Project Gutenberg, but both man and project are very significant. Michael Hart was the pioneer of the e-book, inspired as far back as 1971 by ARPAnet, precursor of the internet – that's 40 years ago!  Hart could foresee a day when a network of networks could bring literature to everyone – for free. Project Gutenberg currently has 36,000 books available to download to Kindle, Android, PC etc, without requiring so much as a registration. Read more about Michael Hart here – he was a remarkable man who has left a phenomenal legacy
Software Freedom Day and the Open Source Schools Project
Saturday's Software Freedom Day event in Hereford was extremely well-attended by a wide range of people, from the frankly mystified to the mildly curious to the positively evangelical. Discs were flying off the Tardis (see the photos) and HLUGgers were busy from before 10 o'clock til gone 4 explaining, demonstrating and advising. We even gained a few new members. Hot on the heels of that, yesterday saw HLUG going into a county primary schools to let kids loose on Tuxedu, our distro for schools. Mark Sanderson from Herefordshire Council came along to watch us in action – both the council and the companies supporting school IT infrastructure are very supportive of the project – and if we can make a good impression on a day when one key member is down to the remnants of a voice and another has to leave to deal with urgent client business, we're home free. The day went well, the kids loved Tuxedu (as we knew they would) and our Open Source Schools Project is attracting more and more attention throughout the United Kingdom.
The Green Bit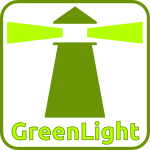 GreenLight
We had our second GreenLight meeting last Thursday. Andrew Talbot from Halo Leisure gave a very interesting talk complete with some staggering statistics. A run-down of the meeting can be found here. We're in the throes of planning November's meeting and are considering a lunchtime meeting, possibly with a contribution of £5 to cover lunch. What are your thoughts? Would the timing and the fee make you more or less likely to come along? Please let us know what you think.
Other bits and pieces that have caught our eye recently include:
AppInventor for Android – write your own apps (no cat necessary)
Be Prime Minister for the day with MyUK
The London Philharmonic meets Angry Birds (it's not often NewsBeat makes it into the Free Press)
Old computer ads – we know you remember them too!